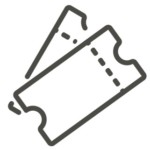 BLOCKCHAIN BASED SECURE TICKETING
Cryptographic digital tickets are fraud resistant. Decrease your costs & increase customer satisfaction.
Control primary and secondary transactions of all tickets.
Limit transferability of tickets.
Define maximum prices or markups for secondary markets operated by partners. Control which tickets they are allowed to sell.
Gamify guest experience with by collecting event memorabilia, fan cards, loyalty points and more.
Buy tickets, merchandise gear or beverages and food using loyalty points or fan tokens.
Check health certificates & connect them to personalized tickets. Integrated EU Green pass, VCI, Good Health Pass etc.)